The 2010 Chevrolet Camaro SS/RS
Since the Camaro production hiatus in 2002, expectations have run high for General Motors' release of its fifth-generation Chevrolet Camaro. The sales for the 2010 model began in April of 2009, and by June of the same year Chevrolet dealers were already reporting a high demand over the supply of the 2010 Camaro, influenced greatly by the vehicle's prominent presence as Bumblebee in the Transformers movie released in the same year.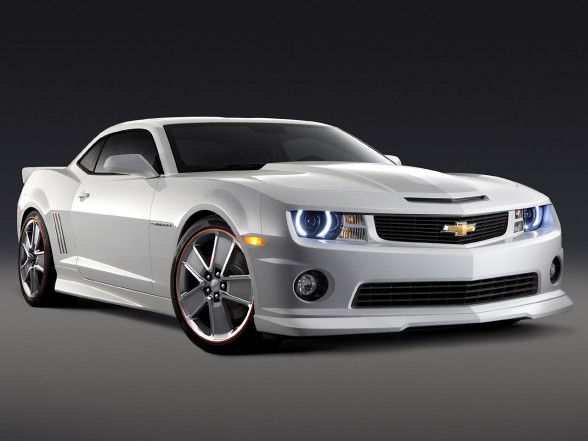 You may look forward to the unveiling of the Camaro Convertible, as production is planned to start in the first quarter of next year. But for now, let's take a look at some of the specs of the 2010 Chevrolet Camaro SS/RS and hopefully let them be enough to overwhelm you:

The exterior
High-intensity discharge headlamps which are LED halo rings, a rear spoiler, and small ultrasonic sensors on the rear that alert you when you're approaching stationery objects too close. World-renowned and high-performance Brembo brakes and Pirelli P zero tires. Wheels available up to 21 inches for that "ready-to-pounce" presence and feel.

Smoothness of Driving and Safety
4.5-link independent rear suspension with near-perfect weight distribution and variable ratio-power steering make for smooth and tight handling. Six standard airbags on the front and side. Standard OnStar safety and security services. StabiliTrak electronic stability control system that provides traction control and antilock brakes.

The interior
A Boston Acoustics premium sound system of nine speakers. Bluetooth wireless technology for select phones that allow you to make and take phone calls with a tap of the steering wheel, and access your music library for your enjoyment while your iPhone or player charges through a USB port. An XM radio which lets you tune in to more than 170 channels in digital-quality without news, sports, or commercial interruptions.

The parts that make it run
426 hp at 5,900 rpm and 420 lb-ft of torque at 4,600 rpm. If your gearbox of choice is the Tremec TR6060 six-speed manual, you'll get in the deal an LS3 6.2-liter V8, which is the same motor in the base Corvette.

Overall, the 2010 Chevy Camaro deserves to get all the positive attention it has spurred in Camaro fans and car enthusiasts in general during the few years General Motors stopped its production. With the right specs combination you can enjoy the competitiveness it has to offer against, say, the 2010 Mustang GT. But as wonderful as the 2010 Camaro is—especially considering that its price ranges from $30,995 to a little over $35,000, still among the best vehicles of its kind but relatively cheaper than the 2010 Mustang GT—you know what this would mean to your insurance coverage. You would need to locate cheap car insurance rates with this one, and though that seems tough to do, it isn't impossible.

Read More...